With the growing interest from investors, ESG investing is fast becoming a driving force across the investment management industry.
Certificate in ESG Investing
The CFA Institute Certificate in ESG Investing equips investment professionals with the technical knowledge and practical application needed to understand the fundamentals of climate change and the integration of ESG into the investment process.
Interested in accelerating your career? With the Certificate in ESG Investing, you can master real-world investing skills, incorporating environmental, social, and governance (ESG) factors in your skillset.
The certificate and learning materials were developed by leading practitioners for practitioners, and have been recognized by the UN Principles for Responsible Investment (PRI), an independent body that seeks to encourage investors to use responsible investment to enhance returns and better manage business risks.
Eligibility for Hong Kong Government Funding Scheme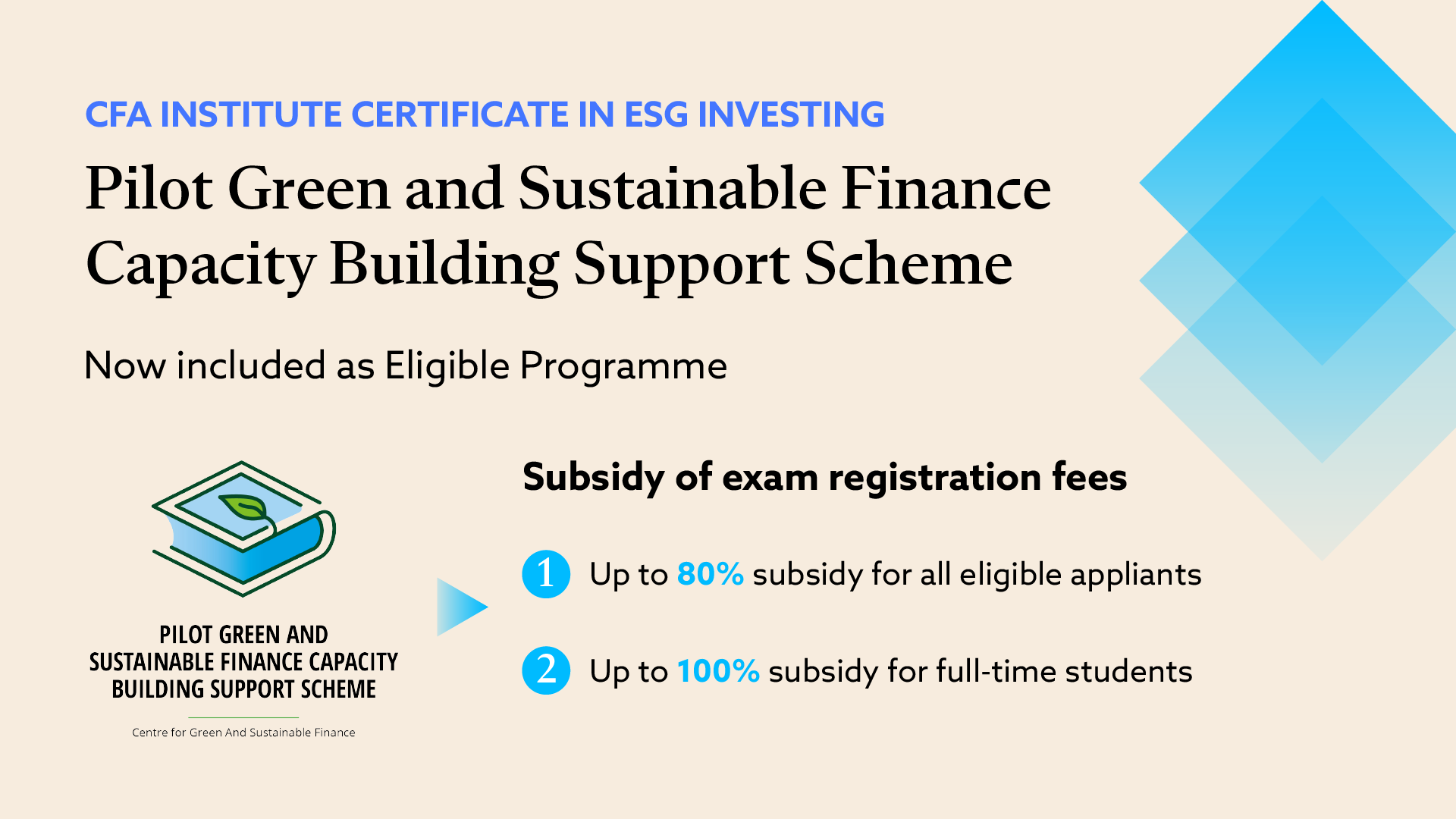 Following the Hong Kong SAR government's recent announcement, our Certificate in ESG Investing has been included as one of the Eligible Programmes under the Pilot Green and Sustainable Finance Capacity Building Support Scheme. Upon successful completion of the program and passing the examination, eligible applicants can apply for a subsidy of up to 80% of the exam registration fees, where full-time students can apply for a subsidy of up to 100%.
For more information and handy tools related to the Scheme, please visit the reimbursement scheme website here.
The Certificate in ESG Investing is owned, administered, and awarded globally by CFA Institute having previously been developed and awarded by CFA Society UK.
For further details, please click here.
Fitch Learning provides comprehensive and structured revision courses in assisting candidates to prepare for the exam of the Certificate. We are delighted to announce the partnership with Fitch Learning that CFA Society Hong Kong Members, CFA charterholders and non-members could enjoy discounted rates for signing up the revision courses through our website.