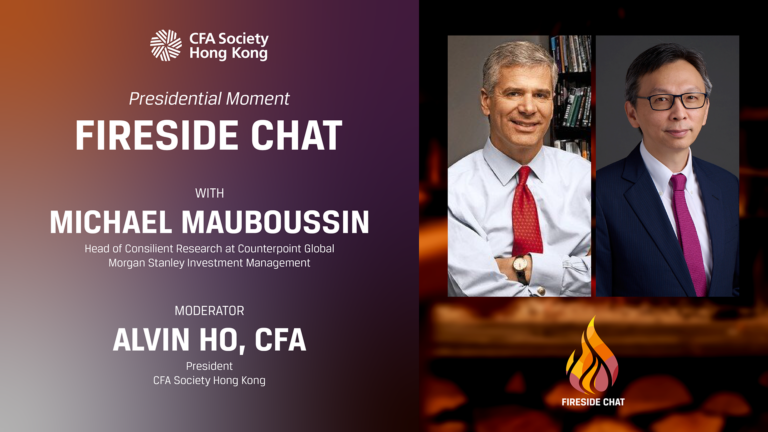 CFA Society Hong Kong is honored and delighted to have invited Mr. Michael Mauboussin, Head of Consilient Research, Counterpoint Global, Morgan Stanley Investment Management. As a Wall Street investment strategist, author, and professor, Michael sat down for a Fireside Chat with Mr. Alvin Ho, President of CFA Society Hong Kong, to discuss his views on investing and share insights from his decades of experience in the field. The conversation covered a range of topics, including the current state of the market, the importance of understanding a company's competitive advantage, the role of luck in investing, and the impact of behavioral finance on investment decision-making.
Additionally, Mauboussin offered his thoughts on the future of investing and the potential impact of new technologies and trends. Overall, the Fireside Chat was a thought-provoking exploration of the art and science of investing, and provided valuable insights for investors of all levels.
About the speaker:
Michael Mauboussin is Head of Consilient Research at Counterpoint Global, Morgan Stanley Investment Management. Previously, he was Director of Research at BlueMountain Capital, Head of Global Financial Strategies at Credit Suisse, and Chief Investment Strategist at Legg Mason Capital Management. He is also the author of four books, including More Than You Know: Finding Financial Wisdom in Unconventional Places, named in the The 100 Best Business Books of All Time by 800-CEO-Read.
About the moderator:

Alvin Ho is an experienced investment principal with a track record in private equity. He currently splits his time between managing a portfolio of private investments and institutional investing on one end, and handholding start-ups and grown-ups seeking new iterations on the other. In addition, he serves as a board member for listed companies and NGOs and is a member of investment committees for funds and platforms. He is also the author and editor of several books, including RISE FROM CRISES, the Society's 30th Anniversary publication.
Unveiling Michael's Journey of Becoming an Investment Strategist
After Michael graduated from college with a B.A. in Government, instead of pursuing the path of politics, he ended up starting his career as an equity research analyst. In this video excerpt, he unveiled how he started his career, with the guidance of his mentor and friend Alfred Rappaport, from a trainee in Drexel Burnham Lambert to become a significant scholar and author in the field of investment strategy.
Michael's View on Optimal Fit as a CEO in Capital Allocation
In a recent article written by Michael, he reflected that most CEOs may not be an optimal fit for the job in terms of handling capital allocation. He elaborated in this video excerpt that most operational staff are indeed not meant to be handling capital allocation, hence not trained in maneuvering through such tasks effectively. The importance of knowledge in financial deployment is becoming more and more apparent.