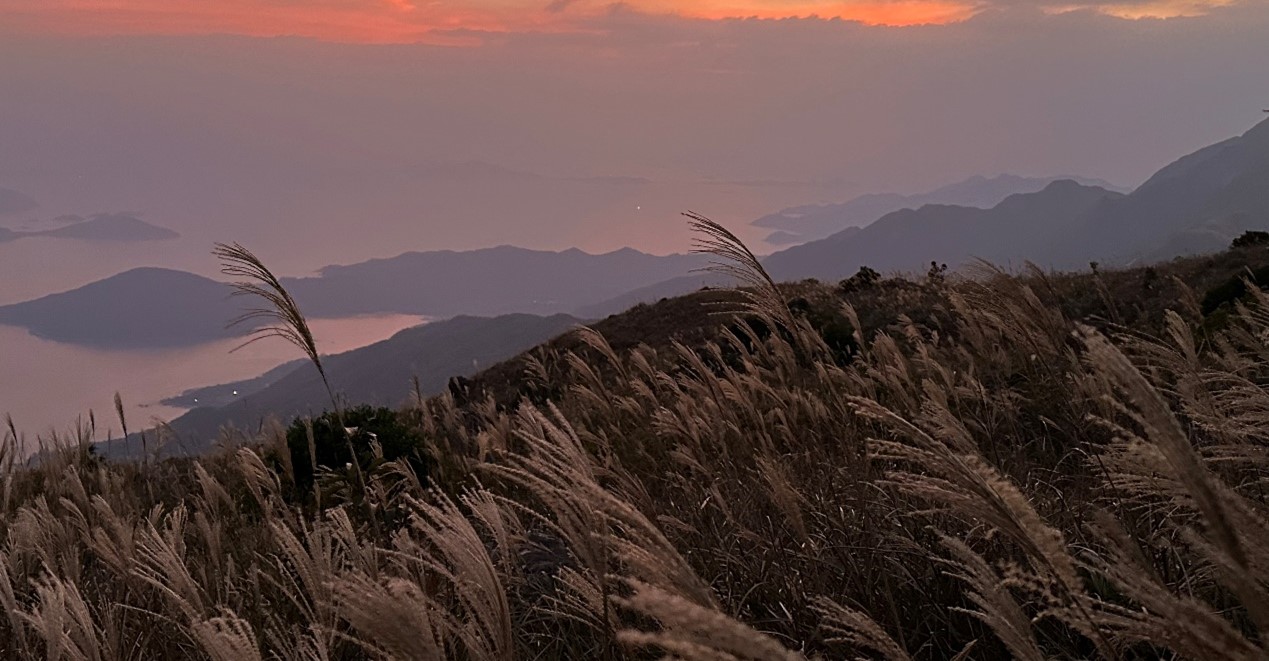 Code: 231111N-MSX
Mid-November is probably the best time to see miscanthus (芒草) in Lantau Peak. Not only you can enjoy the beautiful view, but also you can take wonderful photos of yourself. Accompanied by the top 3 hiking views in Hong Kong, this would be definitely a cheerful hike you wouldn't want to miss. Limited seats, please sign up ASAP.
Date:  11 November 2023 (Saturday)
Meeting Time: 10:00 am
Meeting Place: Tung Chung MTR Exit B
Itinerary: Tung Chung MTR Exit B -> Ngong Ping -> Lantau Peak -> Pak Kung Au -> Tung Chung MTR Exit B
Estimated Finish Time: 4:00 pm (Tung Chung MTR Exit B)
Total distance: 6 km
Total climbing: 520 m
Total descent: -620 m
Max elevation: 934 m
Difficulty: 3.5 out of 5 stars
View: 5 stars out of 5 stars
No. of Participants: 18 CFA Society Hong Kong participants
Fee: Free of charge
Materials: Please wear hiking shoes and bring 1.5 Liters of water
Requirement: Experienced hikers
–
注意事項/ Remarks:
1)The captioned outdoor activity is free and on a voluntary basis, participants shall bear their own risks and responsibilities during the activity. CFA Society Hong Kong will cover basic outing insurance* for eligible participants who registered on/before 1 Nov 2023 (Wed). Insurance will not be covered for those who registered after 1 Nov 2023 (Wed). It is reminded that all participants should take out adequate insurance for your own financial and personal security.
2)The event will be canceled if Typhoon Signal No. 3 / Typhoon Signal No. 8 / Typhoon Signal No. 10 or any rainstorm warning is hoisted before 7:00 AM on the event day. In the event of cancellation due to bad weather, it will be rescheduled to 18 Nov 2023 (Sat).
3) All participants should adhere to safety measures.
Health Precautions Related to the Epidemic:
1)Always pay attention to personal hygiene and clean hands frequently.
2) If you have any discomfort or flu symptoms, please DO NOT participate in the captioned activity
Event Policy:
The Society reserves the right to cancel the activity due to any unforeseen circumstances or the minimum number of enrolment is not achieved.
Participants will not abide to hold CFA Society Hong Kong responsible for any accidents of whatever kind, resulting in death or injury, or for any damages to or losses or destruction of personal properties arising during the activity.
Please be punctual.
All participants must agree with the "Liability Declaration" when they register online. Please note that if you choose to participate in this activity, you do so at your own risk. In consideration of being allowed to participate in this activity, you agree that in no activity shall CFA Society Hong Kong, its staff and committee members, and/or any other person assisting CFA Society Hong Kong (collectively, the "Releasees") with this activity have any responsibility whatsoever for any and all injuries (including death) suffered by you during this activity and/or for any and all resulting loss and/or damages of whatsoever nature and you agree to release each such person (or entity) from any liability whatsoever for any and such loss, damages, and injuries (including death) howsoever arising from your participation in this activity. Also, if you suffer from any illness, medical condition, or disability, please consult your physician before participating in the subject activity. This disclaimer of liability applies to any and all loss, damages, and/or injury, including but not limited to those caused by any act of negligence on the part of any of the Releasees or on the part of any agent or deemed agent of any of the Releasees.