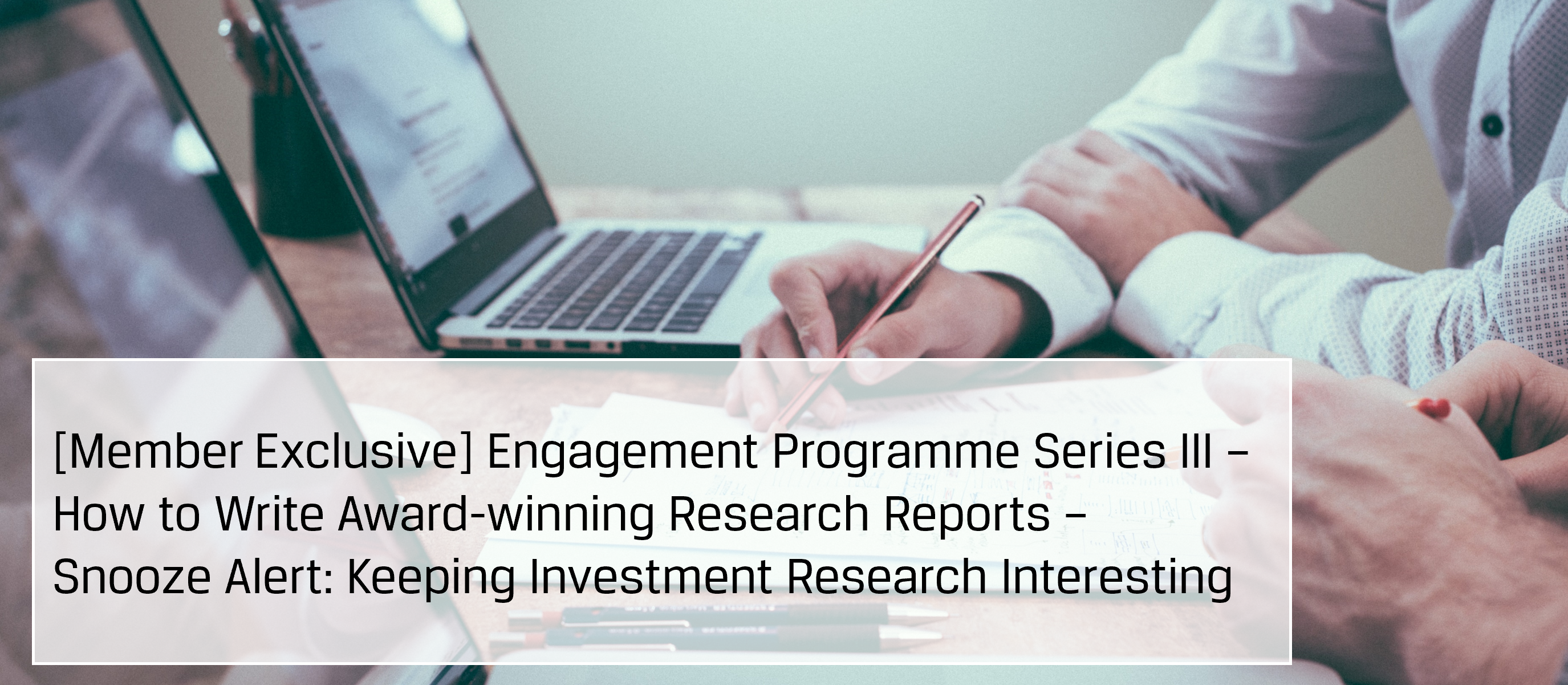 [Member Exclusive] Engagement Programme Series III – How to Write Award-winning Research Reports – Snooze Alert: Keeping Investment Research Interesting
CPT/CE Eligibility (A Recognized CPT Provider)

| | |
| --- | --- |
| CPT hour(s) | 1 |
| PL (CE) hour(s) | 1 |
| RBV CPD hour(s) | 1 |
Snooze Alert: How to Keep Investment Research Interesting
(CODE: 220628W-CEX)
We, CFA charterholders, produce investment research reports to sell ideas. Many would target external clients. A few would cater to internal investment committees. Some use models and numbers to preface their theses, while others rely on catchy phrases and buzzword-of-the-time to draw attention.
Here are a few quotes on performing research and writing reports:
"(on how to write a good research report) Don't do what everyone else is going. If you're to add value, your content needs to be different and, optimally, your presentation of it should be too." – Tom Brakke, CFA
"Don't worry about doing research, just search." – Austin Kleon, Author
"Research is formalized curiosity. It is poking and prying with a purpose" – Zora Neale Hurston, Author, Anthropologist and Filmmaker
Investment research falls into a unique category and may differ from that in the academia or scientific reports, as well as commercial or market studies. In addition to practicality, investment research requires the perseverance to digging deep and asking many questions, so that investors can gain more insights to make better-informed investment decisions.
In this series of webinars, the Society has invited a number of speakers to share with us:
– their first-hand experience in preparing and writing the pieces, and
– how to help edit and refine reports and turn them from gold to platinum
Through this series, we can understand the unusual tricks and so-common pitfalls in writing a piece of award-winning research.
In this session, veteran sell-side head of research, Mr. Erwin Sanft, CFA, will focus on research content and how to avoid the common pitfalls that make investment research boring, disliked and ignored.
Erwin will highlight the importance of futurism, originality, consistency, rigour and repetition to the authorship of investment research reports.
About the Speaker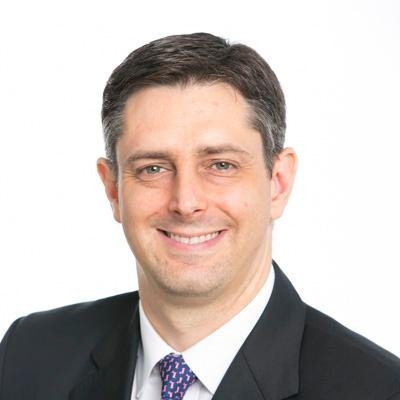 Mr. Erwin Sanft, CFA
Non Executive Director
CFA Society Hong Kong
Erwin is a founding partner of Pasaca Capital. He has a quarter century of experience in equity research. Erwin was head of China research at BNP Paribas, CLSA and Standard Chartered Bank and head of China strategy at Macquarie Bank. He also worked as a senior portfolio manager at E Fund Management, China's largest mutual fund manager. Erwin has managed research teams in Hong Kong, Shanghai and Beijing and authored many groundbreaking reports on China equities. He moved to China in 1992, studying at Nanjing University before working at the New Zealand Consulate-General in Shanghai. Erwin has been a CFA Charterholder since 2003. 
Erwin holds Bachelor's degrees in Economics and Finance from the University of Auckland, New Zealand, and graduated from the International Student Program in Chinese and Economics at Nanjing University, China.
–
Rating General- Material presented will be basic and of interest to a general audience having no background in the area.
CFA Societies Global Passport Program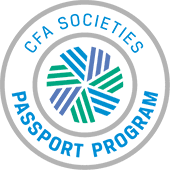 CFA Society Hong Kong has participated in the CFA Societies Global Passport Program which allows CFA society members to enjoy local society member rate at selected events like this luncheon. Members of non-CFA Society Hong Kong CFA Institute societies qualify to attend this event at CFA Society Hong Kong member rates. Please contact CFA Society Hong Kong at event@cfahk.org to register
Remarks:
This Webinar is a complimentary event for all members.
Upon registration on the Zoom platform, each registrant will be given a unique link for each session, please do not share the link with others.
Members will be entitled to receive CPT Attendance Letter at NO extra costs after attending the FULL webinar. Please see below for further details.
To qualify for CPT/CE hours, all participants must attend the full webinar. After the webinar, Society staff will verify participants' check-in and check-out time from the registration system for the purpose of issuing CPT Attendance Letters. No pro-rata credit hours will be awarded.
CFA Societies Global Passport Program Eligible.
The event will be conducted in English.
The webinar link and email confirmation will be sent to the registrant upon successful online registration.
A webinar reminder will be sent out 1 day before the event. If you have not received the email confirmation and reminder, it is the delegate's responsibility to contact CFA Society Hong Kong to confirm their place.
The webinar will be conducted on Zoom.
Please log in to the webinar link 10 mins in advance of the session start time to allow some time to solve the technical issues (if any) and the webinar will start promptly at 7:00 PM.
For attendance-taking purposes, participants' names and company names (if any) may be given to the speaker of this event.
CFA Society Hong Kong will closely monitor and assess the ongoing situation of COVID-19 in the community. Should there be any changes to the event dates and other arrangements, we will notify participants via SMS and/or email. Notices will also be posted on Society's website. Please stay alert to our notifications.
The event organizers reserve the right to change the format, date or speakers of the event due to unforeseen circumstances without prior notice.
In case of dispute, the decision of CFA Society Hong Kong is final, and no further correspondences will be entertained.
Please note that no request for an attendance letter will be processed after the event date & registration deadline.