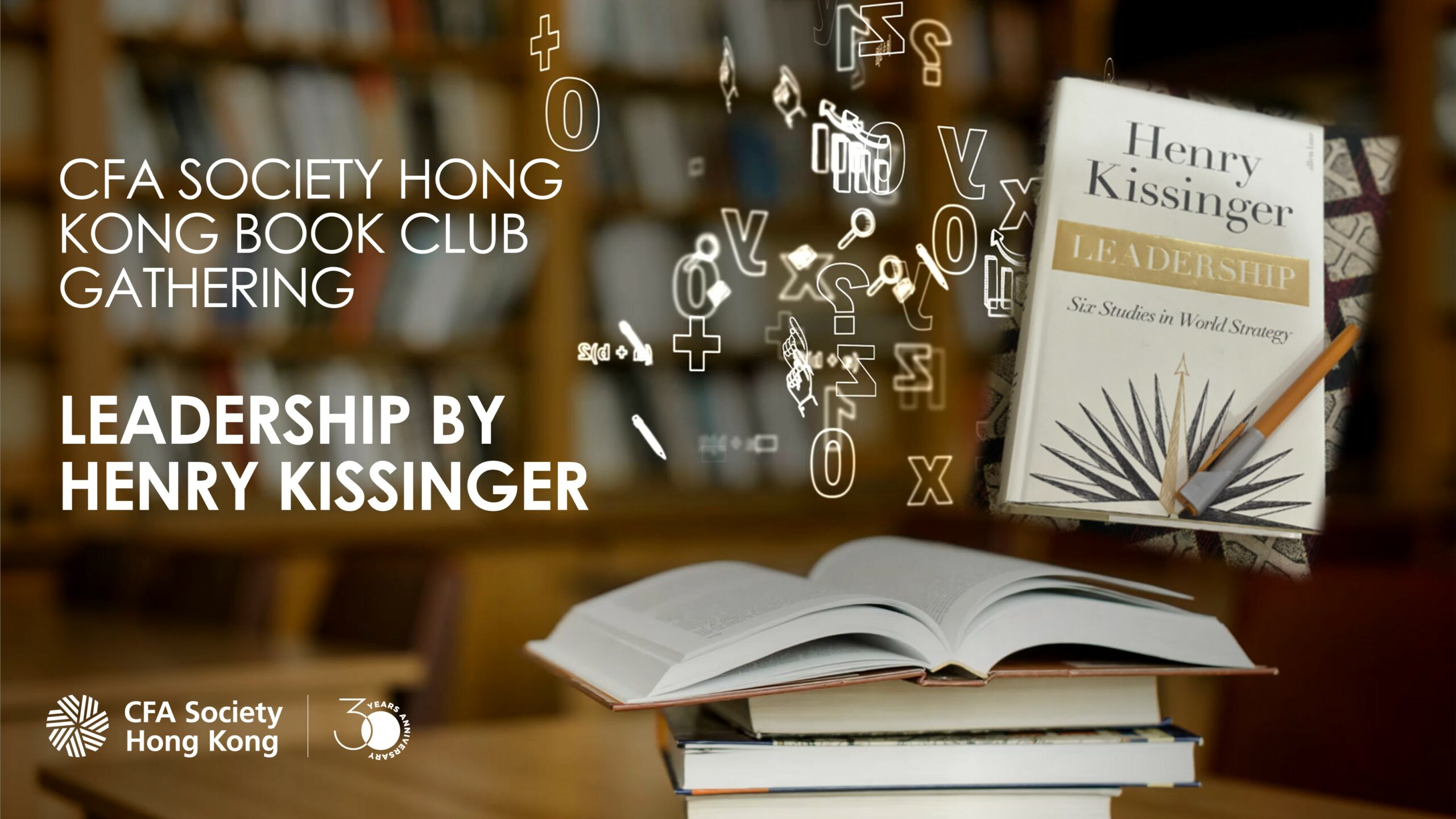 Book Club Gathering – "Leadership" by Henry Kissinger
(Code: 230117N-MSX)
For this edition of the Society's Book Club Gathering, we are happy to share that we will be discussing the book, "Leadership: Six Studies in World Strategy" by Henry Kissinger. Several speakers at our recent Global Financial Leaders Conference mentioned that geopolitical risk would be a key concern, we trust that this will be a timely topic.
Tapping onto the experience and astute observations by the US former Secretary of State, Henry Kissinger, readers will be taken on a journey and ride into the world of politics, learning how leaders, from Lee Kuan Yew to Margaret Thatcher, were able to deliver their big-picture strategy in spite of challenges during their time of leadership.
Through the careers of 6 renowned political figures in their time, we will unpack the art and science of leadership, how "decisions [are] made, trust earned, promises kept, a way forward proposed", providing invaluable colour through Kissinger's personal contacts with these 6 leaders in question, each representing a unique "strategy".
We are also excited to host Professor Dennis Wilder to share his thoughts on Kissinger and current affairs, based on his personal interactions with Kissinger as a student, and their private meetings. He will also be happy to share his outlook on US-China relations from the vantage point of a top China expert at the White House during the Bush Administration and then as senior aide during the Obama Administration.
Wilder is a senior fellow with the Initiative for US-China Dialogue on Global Issues at Georgetown University, where he also serves as an assistant professor of the practice in Asian studies at the Walsh School of Foreign Service. He served at the White House with major roles on China and East Asian affairs from 2004-2009. In these roles, he organised a series of presidential trips to Asia, including to the 2008 Beijing Olympics. From 2009 to 2015, Wilder was senior editor of the President's Daily Brief. Wilder earned a Master of Science in Foreign Service from Georgetown University. During 1975-76, He was an exchange student at the Chinese University of Hong Kong studying Chinese politics and language in the Yale-in-China program.
Remarks
This webinar is not eligible for any CPT hours.
The event will be conducted in English.
The webinar link and email confirmation will be sent to registrant upon successful online registration.
A webinar reminder will be sent out 1 day before the event. If you have not received the email confirmation and reminder, it is the delegate's responsibility to contact CFA Society Hong Kong to confirm their place.
The webinar will be conducted on Zoom.
Please log in the webinar link 10 mins in advance of the session start time to allow some time to solve the technical issues (if any) and the webinar will start promptly at 7:30pm.
For attendance-taking purpose, participants' names and company names (if any) may be given to the speaker of this event.
CFA Society Hong Kong will closely monitor and assess the ongoing situation of COVID-19 in the community. Should there be any changes to the event dates and other arrangements, we will notify participants via SMS and/or email. Notices will also be posted on Society's website. Please stay alert with our notifications.
The event organizers reserve the right to change the format, date or speakers of the event due to unforeseen circumstances without prior notice.
In case of dispute, the decision of CFA Society Hong Kong is final, and no further correspondences will be entertained.